Welcome to our eshop dogbows.gr.
Hi,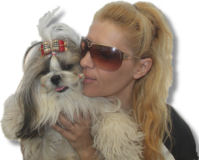 I'm Nina, responsible for "Zouzou's Collection" and I will be happy to help you via the site's contact, or via a facebook message, or directly by phone, to discuss any of your questions, help you in the clothes' sizes and generally anything else you need, in order to be completely satisfied with your purchase. Since you read this, it means you have already visited our website and we wish to thank you for it.
Here you will find all our products sorted into categories for easy access. In more detail we have a large variety of:
- Wonderful handmade bows for dogs, dog bows for exhibitions and dog bows for every dayfor every day, in many designs and colors.
- Hand made Beds with style and imagination, for your dog to enjoy and for you to rejoice with what you see.
- Clothes for all occasions from every day clothes, to special handmade (Special handmade clothes by "Nina") for special occasions.
- Carrying crates.
- Handmade stairs for your friend's easy access everywhere.
- Branded grooming products like simple brushes, to hand-painted brushes, rubber bands, grooming papers, scissors, combs, for perfect results with your dog's grooming.
- Handmade diapers for their hygiene needs.
- Handmade exhibition collars.
- Handmade knitted clothes.
- Handmade covers.
- Handmade cushions and top knot with your logo.
Also a variety of many other products.
Enjoy!