Steps
Handmade steps to be able to climb up and down your little friend wherever you please. Give him the opportunity to use parts that would both he and you can ...which alone can not .
Choose fabric and logo and give your personal style.
Manufacturer:
Zouzou's Collection
Results 1 - 7 of 7
Steps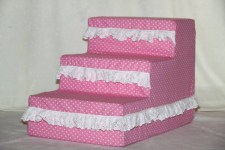 Stairs from cotton fabric polka dots pink color.