Doggy trod alone 2880 km distance from the u.s. side, one to the other!
A small Yorkshire Terrier, crossed the distance of 2880 km, from one side of the U.S. on the other, completely alone! The puppy left from Arizona and reached up to Wisconsin, where he found someone, the skanare for microchip and to the surprise and joy of its owner, found it! The owner and he made the long journey to go to pick up the dog, because he did not want to travel in the baggage compartment of the plane. Another story had a happy ending because of microchip pet identification.
Source: http://abc7chicago.com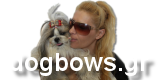 Welcome to our new website. dogbows.gr has had an extreme makeover. The new site has an improved design, is more secure and is more product oriented, in order to maximize user experience. The new site also, supports online orders, so you can order directly and save the call to us. It is also responsive, which means that it has perfect functionality and appearance on your smart phone or tablet. However, during the transition, we had to delete most of the subscribers. If by any chance you were registered and cannot login any longer, you need to register again. We are sorry for the incovenience. We hope you enjoy the new website and we are waiting for your suggestions and comments. Please contact us for any suggestion, question, clarification, or comment, from the contact form. We would be happy to know what you think and also answer to your questions.