Barking Heads
At Barking Heads we are proud to be able to help all dogs live happier and healthier lives by providing them with the food their nature deserves.
That is why our recipes are created with high quality ingredients by people who love pets and care about their diet.
Our very tasty recipes are designed in such a way as to meet the natural needs of dogs as they contain all the nutrients and flavor they need to stay healthy, full of joy and energy.
Natural Ingredients, Healthy Digestion, Hypoallergenic, Healthy Skin and Hair, Healthy Cartilage, Controlled Growth, Strong Teeth, Vitamin and Mineral Additives, Anti-Obesity Recipes, Immune Boost, Brain Growth, High Fat, flour, Approved by veterinarians, Balanced diet, Slow cooked.
Manufacturer:
Barking Heads
Results 1 - 5 of 5
Dog food BARKING HEADS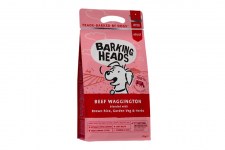 with brown rice, garden vegetables & herbs ....