AATU
Evolutionary Natural Nutrition.
Mother Nature evolved wolves and dogs as carnivores, which derive the necessary energy and nutrients mainly from animal proteins. However, studies have found that a key factor in taming dogs is their ability to easily digest carbohydrates and food starch. At Petfood UK we believe in balance and fully understand that each dog has its own characteristics. This is the main reason why we created AATU , a personalized and unique diet, based on animal proteins, enriched with herbs and fruits. AATU is the first monoprotein diet to contain fresh meat, without preservatives (ratio of animal sources - carbohydrates, starch 80/20). In addition, it is a very low glycemic diet, without grains, without potatoes and gluten (an ingredient that is responsible for many allergic reactions). AATU for dogs has such a high content of meat that for the manufacture of 1kg of food 2.5kg of materials are used, while respectively for 10kg of food 25kg are used! AATU is produced by hand in small quantities in a natural way, without artificial colors, without artificial preservatives, without artificial flavors and without GM ingredients. At Pet Food UK we are very proud of all our products, and now through AATU Dog we are given the opportunity to offer a naturally unique and evolutionarily suitable nutrition to your dog. Our food will be one of the best products he has ever tasted. If you do not believe us, let your dog show you the difference!
AATU dog food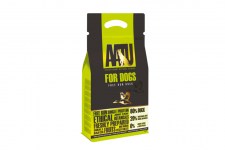 Ingredients: duck 80% .....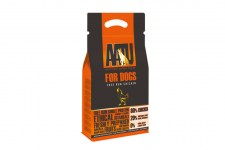 Ingredients: chicken 80% ......